Summer is coming soon and with it comes longer days, warmer weather, and more time to spend with family. If you're looking for ways to make the most of your extra time together this summer, look no further! We've rounded up 5 family-friendly summer activities that everyone in the family can enjoy – so get ready to relax, explore nature, and make some incredible memories!
Go for a picnic in the park – bring a cozy blanket, some snacks, and enjoy the great outdoors
What better way to enjoy a sunny day than to pack up your favorite snacks and head to the park for a picnic? Picnics are one of the most classic family-friendly summer activities!
Bring along a cozy blanket to spread out on the grass and soak up the sun while indulging in your treats. Whether you prefer classic PB&J sandwiches or some more gourmet options, a picnic is the perfect setting to enjoy them. And with so many parks to choose from, you can switch up your picnic spot every time for a new adventure. So why not gather some friends or family, bring along some outdoor games, and make a day of it? A picnic in the park is a simple yet delightful way to appreciate the beauty of nature and create some fun memories.
Build an outdoor fort with sticks, blankets, chairs, and pillows to create the perfect hideaway
Ready for a fun project that will transport you (or your kids) back to your childhood? How about building an outdoor fort? All you'll need are some sticks, blankets, chairs, and pillows to enjoy family-friendly summer activities like this one.
With a little creativity and effort, you can create the perfect hideaway to escape the world for a while. First, gather some sturdy sticks and arrange them into a teepee shape. Drape blankets over the sticks and secure them in place with clothespins or string. Use chairs and pillows to create a cozy interior where you can snuggle up and read a book, listen to music, or just relax. Make it your own by adding fairy lights, decorations, and any other personal touches that will make your outdoor fort a true escape. So, put on your creative hat and get ready to build your very own outdoor sanctuary.
Host a movie night under the stars – get some snacks, set up a projector, and have family movie night
Are you looking for other fun ways to spend some quality time with your family? Why not host a movie night under the stars! All you need are some tasty snacks, a projector, and a cozy blanket. Transform your backyard into a cinema with a few fairy lights, some comfy lawn chairs and you're all set for an incredible evening. To make it extra special, let everyone pick their favorite movie and have a vote to see which one you'll watch. Whether it's a classic or a new release, there's nothing quite like watching a movie in the great outdoors. So grab some popcorn, get comfortable, and enjoy a night under the stars with your loved ones. Movie nights are one of those timeless family-friendly summer activities!
Have a water balloon fight – fill up balloons with water and have endless fun while trying to stay dry!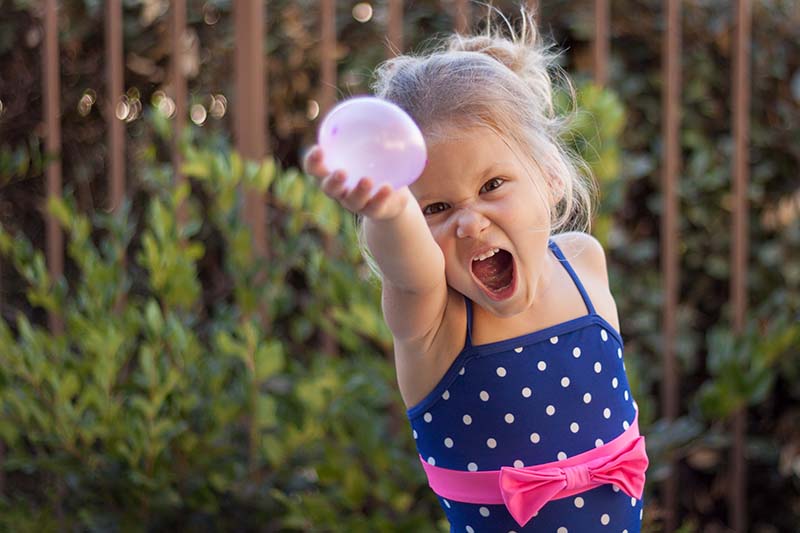 It's time to cool off and spice up your summer day with a water balloon fight! Grab some friends, fill up those balloons with water, and let the games begin. As you toss those balloons back and forth, you'll feel the excitement start to build. Will you be able to dodge that oncoming balloon or get your opponent with a sneak attack? The possibilities are endless! Not only is a water balloon fight a great way to have some fun, but it's also a great way to keep cool under the sun. So, gather your friends and enjoy some endless laughter while trying to stay dry in this ultimate summer game.
Go on a nature walk – explore nearby trails or parks and see what you can find along the way!
Looking for fun family-friendly summer activities that involve the great outdoors? Why not go on a nature walk?! Take a break from the hustle and bustle of daily life and step into the tranquility of nearby trails or parks. You never know what you might find along the way – maybe a colorful leaf, a curious squirrel, or a hidden waterfall. Bring a camera and snap some pictures of the stunning scenery while getting some fresh air and exercise. It's a great way to destress and reconnect with nature. So grab a buddy or go solo and start exploring!
Celebrating family-friendly summer activities with Wood Kingdom West
From picnicking in the park to exploring nature, these are just a few excellent family-friendly summer activities that are enjoyable for all. Whether you choose to build your own outdoor fort, have an epic water balloon fight or watch movies under the stars, these ideas will ensure hours of laughter and creative memories that can be cherished forever. So, don't forget to get out of the house and make the most of this season! Take some time out to appreciate the beauty of nature and experience these fun adventures while they last – life's too short not to seize every moment!
At Wood Kingdom West, we offer outdoor playsets, trampolines, playhouses, and more to make your summer one to remember! When considering family-friendly summer activities, look to Wood Kingdom West to provide the fun while building the outdoor environment of you and your child's dreams. To learn more, please visit our website and contact us today!