Are you bored with your backyard? Does it feel like something is missing? If you're looking for ways to add some pizazz to your outdoor space, a backyard renovation might be in order. Keep reading to learn how you can make your yard truly pop!
Start with a Plan for Your Backyard Renovation
What do you want your backyard to look like when it's finished?
Starting with a plan is the key to backyard renovation success. Whether you want a place for entertaining or sheltering in the shade on warm summer days, it's important to know what your ideal backyard will look like when all is said and done. Taking into account features like cooking space, cozy nooks, seating areas, and greenery will ensure that your backyard fits your needs precisely. Visualize how you'd like to spend time outdoors and make sure no detail is overlooked before beginning any backyard renovation project!
Choose the Right Plants
Rule of thumb: annuals for color, perennials for texture, and shrubs for privacy.
Backyard renovations will look more beautiful with the right plants. Inject color into your outdoor space with annuals like petunia and impatiens, while using perennials like ferns and hostas to add texture. Meanwhile, larger shrubs like boxwoods and hydrangeas can be used to provide privacy without obstructing views of your garden. With a little bit of planning, you can create a stunning landscape that has something for everyone to enjoy!
Add Some Hardscaping
What is hardscaping? Consider the following: a patio or deck for entertaining, a fire pit for cozy nights, and/or a water feature for relaxation.
Backyard renovations are an easy and fun way to spruce up your outdoor space. Adding hardscaping features like patios, decks, fire pits, and water features can bring a dramatic enhancement to your property. Imagine entertaining friends and family on a gorgeous patio or lounging around a toasty fire pit on a crisp autumn evening. Consider adding a water feature for peaceful relaxation; fountains and small ponds make for beautiful additions that can harmoniously combine with your trees and plants. Hardscaping not only upgrades your outdoor setting, it increases the value of your home as well!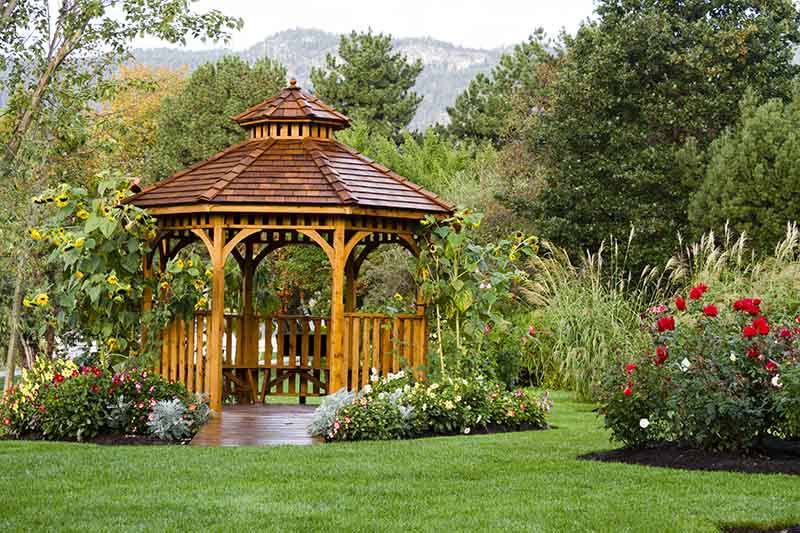 Hardscaping can bring a dramatic enhancement to any outdoor space, and the benefits are numerous. Not only does it add aesthetic value to your backyard, but it also increases the curb appeal of your home and its value. Hardscaping features such as patios, decks, fire pits, and water features can provide a great place to entertain friends and family in comfort. Patios are perfect for barbecues or outdoor dinners while decks provide a comfortable place to relax while surrounded by nature. Fire pits can be used to keep warm on chilly evenings while providing an inviting atmosphere for gathering around with friends and family. Water features such as fountains and small ponds add ambiance and relaxation to any outdoor setting. Additionally, hardscaping can be used to provide privacy without obstructing views of your garden or other scenery. With just a few simple additions, you can create an inviting haven for yourself and visitors alike!
Don't Forget the Lighting!
When it comes to outdoor landscaping projects, one aspect of design that is often forgotten is lighting. Most people simply enjoy the daylight hours and don't think about how dimly lit the space can be after dark. This means missing out on a great opportunity to add some extra ambiance to the area. Solar lights are an excellent solution – they can easily replace electric options because they require no wiring or power outlets, making them easy and fast to install. Installing solar lights adds instant warmth and beauty to any outdoor area, transforming it from an overlooked spot into something you'll be proud of!
Solar lights can provide a range of benefits to any outdoor renovation project. Not only are they easy to install, with no wiring or power outlets required, but they also lend an inviting ambiance and warm glow to any area. During the day, solar lights store energy from the sun and then use this stored energy to light up the night. This means that you can enjoy your evenings outdoors without worrying about having too bright of lighting. Additionally, solar lights are a great eco-friendly option as they do not rely on electricity and therefore reduce your environmental footprint.
Furthermore, solar lights come in a variety of styles and sizes, allowing you to customize your outdoor space according to your preferences. From subtle accents to bold designs, there is something for everyone. With their ability to seamlessly blend into existing landscaping or stand out as a visible feature, these lights can be used to create unique looks both day and night. Additionally, many solar lights come with adjustable settings and timers so that you can alter their brightness or set them to turn on/off at certain times of day or night for added convenience and safety.
Overall, solar lighting is an ideal solution for anyone looking for an easy way to add ambiance and value to their outdoor space. With their ease of installation, eco-friendliness, and numerous design options available, solar lights are sure to enhance any backyard renovation project!
Finally, Accessorize!
If you're wondering what accessories best fit your backyard, consider: Outdoor furniture, cushions, throw blankets, and decorations — all of which will make your backyard feel like an extension of your home.
If you want to transform your outdoor space into a cozy oasis, it's time to accessorize! When it comes to outdoor furniture, take your pick — wicker, aluminum, or wood chaises and tables will bring charm and elegance. Outdoor cushions are essential for comfort and style. Choosing bright colors and patterns can liven up the space even more. Throws blankets come in a variety of colors and fabrics that complement your furniture. From rustic accents to boho-chic touches, there are endless possibilities when it comes to decorations that can spruce up your backyard landscape. With enough proper accessorizing, your backyard will make an inviting place for entertaining or for sipping your morning coffee alone with nature!
With just a few steps, you can create the backyard of your dreams! A carefully thought-out plan, along with strategically placed plants, hardscaping, and lighting will make a huge difference. Lastly, accessorizing with furniture, cushions, blankets, and decorations will bring life to your outdoor oasis. Whether you prefer low maintenance or are looking for some eye-catching flair, there's something for everyone! Don't forget that it's okay to have fun and add splashes of color here and there. Who said backyards can only be shades of green?
At Wood Kingdom West, we provide endless entertainment through our various products that let your creative juices flow and create the perfect backyard retreat. It's no secret that fresh air is good for us – make the most out of yours by setting aside time for relaxation or entertaining guests! To learn more about our product selection, please visit our website and get in touch with us today!