Nothing quite matches the summertime relaxation of gathering with family and friends in your own backyard. If you're planning on getting a home renovation done, one great addition that can be made is installing a gazebo. Not only are they beautiful and majestic as they look out onto your yard, but there's also plenty of benefits to having them as well. Before deciding if this is an addition worth making for your outdoor space, let's dive into what exactly these benefits are so you can determine just how much value a gazebo could bring to both yourself and your property.
The Advantages of Installing a Gazebo
A gazebo is an outdoor living space that can provide many advantages to your home. Installing a gazebo can enhance your property's value, as it adds an attractive architectural feature to your yard. Gazebos serve as a beautiful focal point for outdoor gatherings, such as family picnics or romantic evenings with your significant other. They provide shelter from the sun, rain, and wind, making them an ideal outdoor retreat regardless of the weather.
A gazebo can also be a great place to work on a project, as it provides an outdoor workspace that's protected from the elements. Overall, installing a gazebo can add beauty, functionality, and value to your home, making it a great investment for any homeowner.
What to Consider Before Installing a Gazebo
Before installing a gazebo, there are certain factors to consider in order to ensure that it meets your specific needs. One crucial element to take into account is the size of the outdoor space where the gazebo will be installed. Additionally, you'll need to decide on the material that you want your gazebo to be made from, as well as the overall look and style that you want to achieve.
Other considerations may include your budget, available resources, and any zoning or permit requirements for your area. By carefully evaluating all of these factors, you can be confident that you'll be able to install a gazebo that perfectly fits your outdoor space and meets all of your specific needs.
Finding the Right Style and Design for Your Home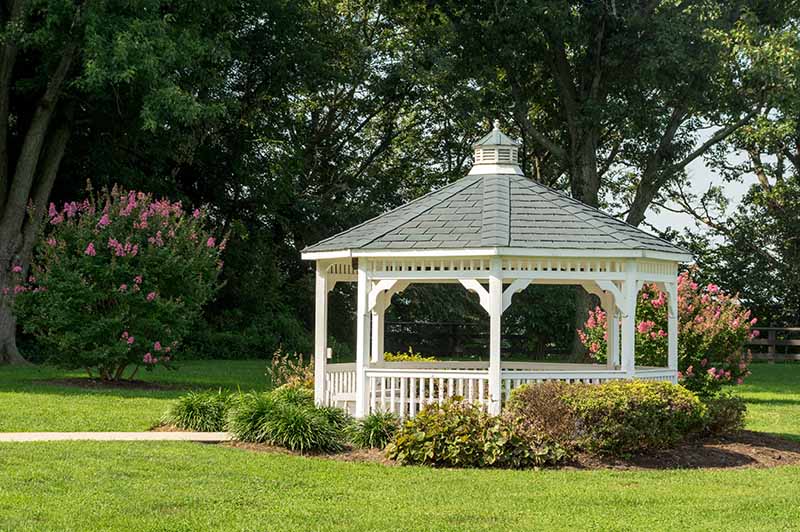 Finding the right style and design for your home can be a daunting task. From modern to traditional, there are countless options to choose from. However, selecting the perfect style and design is essential in creating a comfortable, personalized atmosphere that reflects your unique tastes and preferences.
When beginning your search, it's important to take into consideration not only your personal aesthetics but also the functionality of your home. A well-designed space not only looks great but also provides practicality and comfort. Whether you're working with a professional designer or tackling the task yourself, taking the time to carefully select the perfect style and design will pay off in the long run, resulting in a beautiful and functional space that you'll enjoy for years to come.
From wooden gazebos with intricate designs to metal structures with sleek lines, each type offers its own unique aesthetic appeal that can help transform your backyard into an inviting oasis.
Traditional Wood Gazebos
Traditional wood gazebos come in a variety of shapes and sizes, offering homeowners plenty of options when it comes to designing their outdoor living space. Wooden gazebos have been around for centuries and offer an old-world charm that's perfect for creating a cozy atmosphere in any backyard setting. Wood also provides excellent insulation from the heat during hot summer days, making them ideal for hosting gatherings outdoors without having to worry about sunburns or overheating guests. Additionally, these structures are often easy to assemble onsite as they require little more than basic tools like saws and hammers—no heavy construction equipment necessary!
Metal Gazebos
Metal-structured gazebos are becoming increasingly popular for outdoor living spaces due to their durability, low maintenance requirements, and sleek modern design. These structures offer a contemporary aesthetic that can instantly transform any backyard into an elegant oasis. Metal gazebos are typically made from materials such as aluminum or steel, which provide superior strength and weather resistance while still being lightweight enough to be easily installed onsite. In addition to their attractive appearance, metal gazebos also require minimal upkeep since they don't need staining or painting like traditional wooden models do. This makes them an ideal choice for busy homeowners who want an outdoor space that looks great without requiring too much time and effort in upkeep.
Choosing the Right Location for Your Gazebo
Selecting the ideal spot for your gazebo is a significant decision when planning your outdoor space. You'll want to choose a location that is both practical and aesthetically pleasing. Firstly, evaluate your yard to determine the best area for your gazebo. Consider nearby trees to provide shade and privacy, but make sure there's enough space for visitors to move freely.
Additionally, take into account any potential obstructions that could cause any inconveniences, such as overhead power lines or underground pipes. Keep in mind that the gazebo should complement your overall landscape design, as well as provide a comfortable and relaxing area. With a bit of planning, you can create a beautiful, functional outdoor space that enhances your home's value.
Maintaining and Caring for Your Gazebo
Gazebos are a luxurious addition to your outdoor living space, providing a shaded area for relaxation, parties, or gatherings. However, like any outdoor structure, they require regular maintenance to stay in excellent condition. To keep your gazebo looking beautiful and sturdy for years to come, it is essential to clean it regularly and inspect it for any damage or wear.
The frequency of maintenance required depends on the materials used, the quality of construction, and your local climate. Nevertheless, by taking the appropriate measures to maintain and care for your gazebo, you can create a relaxing and elegant outdoor sanctuary for your family and friends.
Adding Accessories to Make Your Gazebo Unique
Gazebos are a great addition to any outdoor space, providing a relaxing and stylish way to enjoy the fresh air. While gazebos come in a variety of designs and sizes, adding accessories is a great way to make your gazebo one-of-a-kind. Consider installing a ceiling fan to keep the air circulating on hot days or a set of string lights for a cozy atmosphere at night. Planters or hanging baskets filled with colorful flowers can add a pop of color and a touch of nature to your gazebo. If you like to entertain guests, a built-in bar or serving station is perfect for holding refreshments while you host. Adding accessories to your gazebo not only makes it more unique, but it also enhances the functionality of your space.
As you can see, the installation of a gazebo in your yard or outdoor area comes with endless possibilities. You have the power to choose the style and design that best suits your home, as well as find the perfect location for it. Furthermore, by using the tips mentioned above for maintenance and care, you can ensure that your gazebo looks beautiful for years to come. Finally, by adding accessories such as outdoor furniture or natural touches like plants or potted trees, you can make sure your gazebo becomes a unique feature of your home that you will enjoy having year-round. With all these facts in mind, installing and caring for a gazebo should be an easy decision that will greatly enhance the look of your outdoor living space.
Get Your Gazebo at Wood Kingdom West!
At Wood Kingdom West, we offer a wide range of gazebos for your choosing. From poolside to octagon gazebos, there's something here for everyone! So if you're looking to upscale your yard with a gazebo, please visit our website and get in touch with us today to learn more!